VALENTINE'S DAY ENTERTAINING TIPS WITH ARCHITECT SAMANTHA JOSAPHAT
HOME DESIGN TRENDS AND VALENTINE'S DAY ENTERTAINING TIPS 2021 WITH ARCHITECT SAMANTHA JOSAPHAT

Samantha Josaphat founded Studio 397 in Brooklyn, NY, after becoming the 397th African American Female Architect to achieve licensure in the USA. With her partner, Luis Medina-Carreto, who brings over a decade of experience in Finance and Construction Management, Josaphat currently offers a variety of services including interior design, zoning analysis, sustainability assessment, and corporate branding. We spent time with Samantha to learn more about her work and she graciously provided us with design ideas for special occasions. With Valentine's Day right around the corner, we're taking these tips straight to heart. Here is our conversation with Samantha.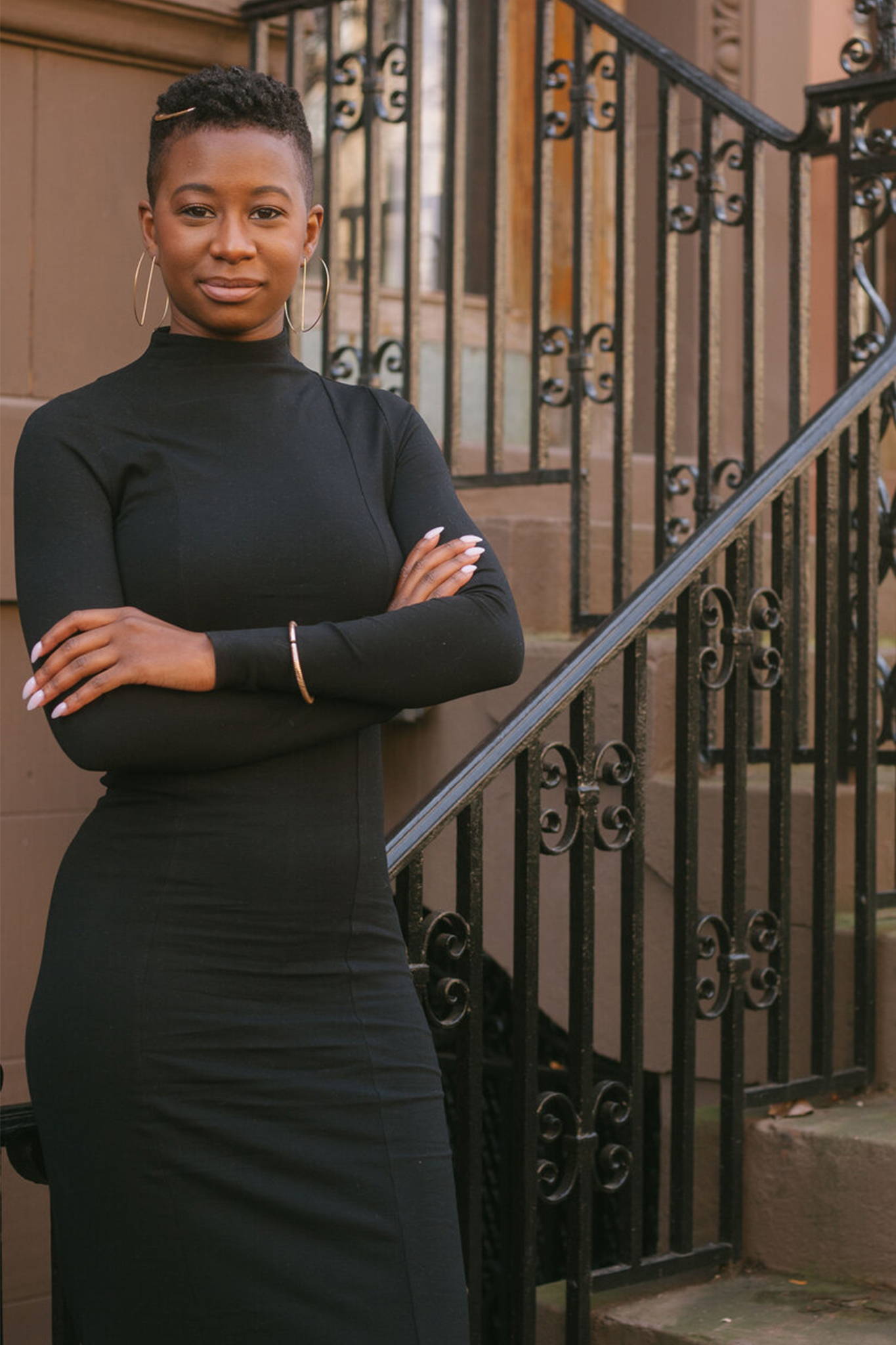 Samantha Josaphat. Top Image credit: ​As featured in The Iconic Home presented by Architectural Digest and the Black Interior Designers Network. Image by The Boundary.
TELL US ABOUT YOURSELF AND WHAT DREW YOU TO INTERIOR DESIGN?
I am a Licensed Architect trained in NYC where many of the projects I've worked on had a large interior scope, which is where my interest in interior design started. Everyone at STUDIO 397 shares this same diverse expertise giving us an edge to provide both architecture and interior design services to a majority of our clientele.
WHAT IS YOUR #1 DESIGN TIP TO PREPARE THE HOME FOR A HOLIDAY SUCH AS VALENTINE'S DAY, OR A SPECIAL OCCASION?
STUDIO 397 always pushes for timeless design, so I'd suggest this to readers: if you are going for a refresh for a holiday or special occasion, be strategic about your design choices. Allow for key decor items that speak to an exact moment to be easily removed while keeping the base design elements more classic so that those fixtures and finishes can last the entire season or year.
WHAT IS AN EASY HOME DECORATING TIP FOR VALENTINE'S DAY ENTERTAINING?  
Tableware, like 54kibo's table linens and ceramics. Also lighting can make a dramatic difference on how you experience a space, so adding a floor lamp or light fixtures that enhance a particular space you want to bring more attention to.
WHAT IS YOUR #1 DESIGN TIP FOR THE NOVICE HOME ENTERTAINER?
Allow your decor and your fixtures to be conversation pieces. This will help the novice home entertainer tell a story. Everyone at STUDIO 397 likes to design their home with items we collect from various travels or local artist and designers.
WHAT IS A QUICK DINNER PRESENTATION TIP THAT CREATES A "WOW" FACTOR WHEN YOU ARE ENTERTAINING GUESTS?
Serving spoons and bowls. Allow your functional items to be a design element, too. Let everything have a purpose. Small saucers that showcase the different color palettes of the cuisine, instead of just pouring it right on top of the food. Also adding a light dash of garnish on the main plate. My fiancé Luis and I work as a team when it comes to dinner parties. He prepares the majority of the dishes because his passion for cooking is way stronger than mine, and I make sure the good taste is properly represented by thinking of how to present the dishes and drinks.
WHAT IS YOUR FAVORITE HOLIDAY FOOD DISH TO MAKE?

Roasted Duck with Garlic Potatoes and Sautéed Asparagus. For dessert the Caribbean staple rum cake and Mexican wedding cake (cookies) with tea or coffee.
ANY 54KIBO PRODUCTS OR COLLECTIONS THAT YOU WOULD RECOMMEND FOR GIFTING?
Senegalese Limoges Porcelain, Aode Earrings, Anesu Minimalist Necklace, Coiled Cotton Bowls & Baskets, and 54kibo Gift Cards which is a staple for STUDIO 397 gifting throughout the year.
AS WE MOVE INTO 2021, WHAT'S TRENDING IN HOME DESIGN AND DECOR?
Bespoke decor that expresses our ability to participate in the global market, since this year forced us to operate virtually more than ever. I am excited to share the various projects that we are working on at STUDIO 397 as they near completion in Q2 and Q3 of 2021 as well as new products that begin production!
Visit STUDIO 397's website at studio397architecture.com.
Read more entertaining tips here with interior designer Danielle Fennoy. Searching for a Valentine's Day gift idea? Check out our holiday guide.
---