Q&A: Fatyly Ceramics - Part II
CERAMIC DESIGNS WITH FATY LY

We recently caught up with ceramic designer, Faty Ly, the unique mind behind our brilliant Fatyly Nguka ceramic collection. This is part II of our interview. Here, Faty continues the conversation with a focus on her design influences, design trends and the importance of gold in her exquisite collection.
54KIBO: WHAT IS YOUR FAVORITE DESIGN ERA?

FL: From Africa, I am drawn to the 15th century Sapi Portuguese-carved salt cellars with their intricate figures. I am also attracted to Congolese wooden sculpture, especially the miniature ones. These artists have created realistic models and figurines built up with the most meticulous care. I also have a passion for Adinkra symbols from Ghana and the pictograms of the Bamum alphabet from Cameroon. Both are significant cultural markers that play an important role in the graphic heritage of Africa.
In the West, I have great admiration for the English Arts and crafts movement with the collaboration between artists and craftsmen to improve both lifestyle and the public taste. This era promoted both furniture and decorative arts; it saw design with a more holistic approach. Someone like William Morris captures my attention with his organic vitality and rich motifs. Also, Christopher Dresser who manufactured everyday objects and created links with businesses to promote his work. This is an important aspect of design to serve people and create synergies with the business world. I also appreciate the innovative role played by Scandinavian countries with forms and materials.
54KIBO: WHY USE GOLD?
FL: Gold and fabrics are fine materials present in my context, at different stages of a woman's life. Gold is probably the most precious material for the Senegalese people. The most ancient and sophisticated piece, known as the Rao pectoral, which was made with refined techniques, has been excavated in Saint-Louis, north of Senegal. People are still questioning the maker of such a piece because of its sophistication and detail. Senegal is also known for its smiths; many have traveled to teach their crafts throughout Africa and Europe. In Senegal, gold is considered the holiest among all metals and it empowers women. It is also offered to a woman to celebrate life stages, like her wedding. In my Hal Pulaar (Tukulor) culture, women wear heavy twisted gold earrings known as "dibés", they indicate social status and womanhood. Women also wear gold as adornment on the forehead in various shapes and designs, not to mention the diverse designs for earrings, pendants, bracelets, and rings. Therefore, using gold for the Nguka collection was a sign to uplift the collection but mostly to reminisce about the gold art tradition in the Senegalese culture. 
54KIBO: EMERGING TRENDS IN CERAMIC DESIGN? FAVORITE DESIGNER?
FL: The trend that I appreciate the most is 3D printing. This technique has allowed for creating ceramic pieces or components of complex shapes, which has been extremely challenging without 3D printing so far. Some designers and artists are using it to produce beautiful work and to push the boundaries of ceramic material and design.  
Am I allowed to pick just one? There are a handful of designers and artists whose work I appreciate, but I have a great interest in Jaime Hayon's ceramics.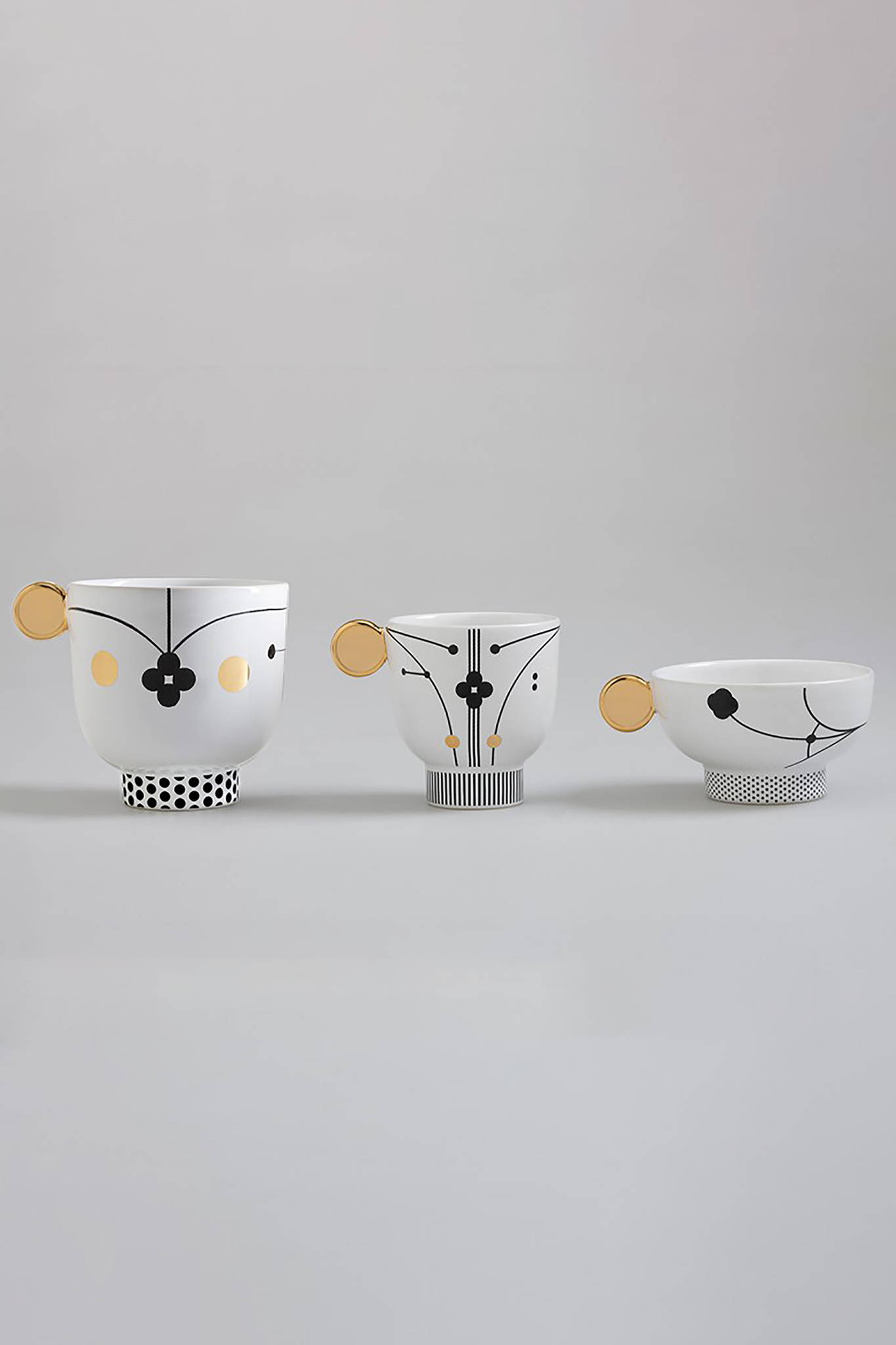 image credit : Jaime Hayon ceramics
54KIBO: FAVORITE ITEMS ON 54KIBO? WHAT INTRIGUED YOU TO JOIN US?
FL: I love Simone Brewster's bold jewelry pieces. I also appreciate her 15-collection of individual cutlery; it is bold, sensuous, and provoking!
Mainly, I just loved the selections and felt a passion and awareness of inner longings and desire to promote products that are made in Africa or designed by Africans across the diaspora. I also perceived a strong personality throughout the collaboration that will create a competitive advantage for 54kibo.
---