Q&A: Fatyly Ceramics - Part I
A DESIGNER'S JOURNEY WITH FATY LY

54kibo is proud to be home to designers, each with their unique talent and flair. We recently got the chance to chat with Senegalese ceramic designer, Faty Ly. She is the mastermind behind our distinguished Nguka Collection. In this discussion, Faty takes us through her journey, inspirations, and the creative process behind her masterpieces.
54KIBO: CAN YOU TELL US A BIT ABOUT YOUR PATH TO A CAREER IN DESIGN?
FL: As someone said, my path to design is made of lines and curves, like the patterns I draw on my plates. Everything was put together to make me a scientist but my passion and strength drew me to design my own journey. In 1988 my parents sent me to study [science] in France. For my father, a scientist, it was obvious that I had to follow the same path. My maternal side was more into arts and crafts. My grandmother was interested in sculpture from Central Africa. I lived surrounded by statuettes, masks, woven fabrics. At home, my mother valued tradition from crafts to food. I lived with several generations who had lived all over Senegal and West Africa. It allowed me to know my culture and give me a sense of pride to cultivate it today in my work and life. Through collecting African artifacts to taking art classes, I launched a craft gallery in my hometown Dakar in the '90s. In 2000 at the International Crafts Fair of Ouagadougou (SIAO), I met a potter from Bobo-Dioulasso. We collaborated and eventually, I went to design school in London, Central Saint Martins where I trained in industrial ceramics.
54KIBO: WHAT INSPIRED YOU TO SELECT THE MATERIALS AND DESIGNS USED?
FL: I was drawn to use porcelain material as an artist would use a canvas. It is a very fine yet strong material with a glossy finish that enables me to tell stories with the silkscreen-printing technique. It is also available in various and popular sizes that speak to most people.
For the designs, the first collection Nguka was inspired by a black and white portrait. I am fascinated by the 1950's Senegalese women's portraiture. When I look at them, I have so many questions for the muses and I guess redesigning their portraits was the best way to get to know them. Nguka was designed to pay tribute to all these women for their beauty, strength, and courage. 
YOUR CREATIVE PROCESS?
FL: Most of the time it starts with ideas collected based on images, art pieces, or usual objects. I start by drawing or making a maquette. I started both Nguka or Toile de Korghgo by drawing then applying these to porcelain shapes. The final drawings are sent to a graphic designer specialized in tableware to make the templates. This stage is followed by the silkscreen-printing process before being applied to the porcelain shapes like plates, cup, teapot, etc. and then fired in a kiln at around 800C. The first batch of prototypes is produced to correct all minor defects before launching the production.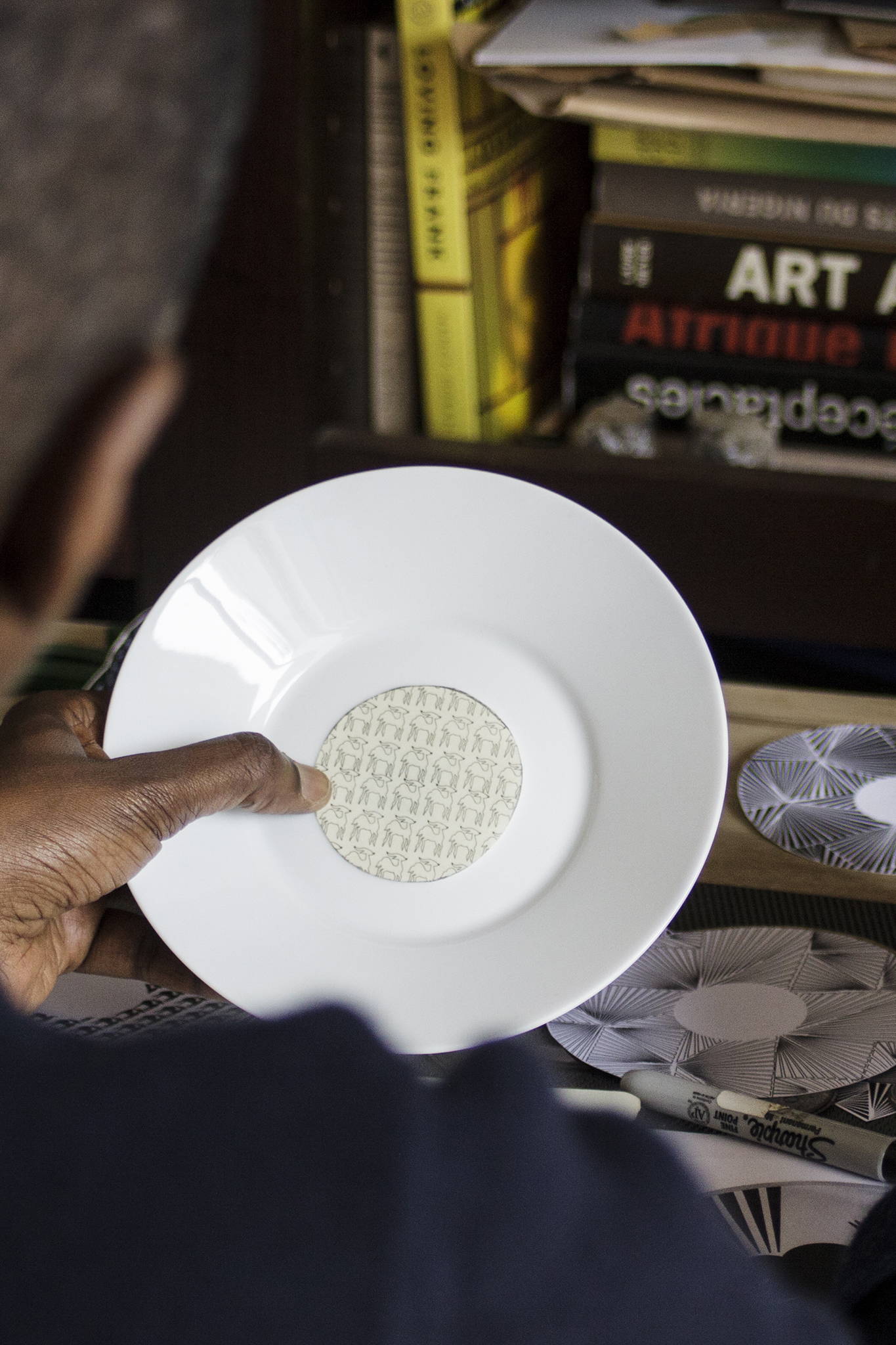 54KIBO: YOUR FAVORITE ITEM IN YOUR COLLECTION? WHAT IS NEXT FROM YOUR DESIGN HOUSE?

FL: So far, I would say that I appreciate the Nguka cup and saucer for its graphic details on both cup and saucer. There is an element of surprise, which creates an experience on both pieces. The next step will probably head to food. I leave the rest to the sound of my internal voice that whispers to me.
---