Nursery to Kids Room Decor
DECOR TRENDS: NURSERY TO KIDS ROOM

  Soft pastels, fluffy stuffed animals, light colors, and gentle atmosphere are usually the first associations when preparing a nursery. However, latest trends in home decor, show that a baby's room has caught up with the adults' trends in interior design and that we're way past an all-pastel, feathery setting.
TIMELESS & COLORFUL STYLES
What modern parents should look into is sustainability and timeless style, while thinking about how to transform a nursery into a room for a bigger child, and even a teen later on. Colors we find on babies' walls are not so pastel anymore, and we see more and more statement wallpapers, bold nuances, transformative and unique furniture pieces. Themed rooms are common, but whimsical is slowly making way for a more versatile, mature style.
Image credit: Elle Decor - Lucy Liu's Playroom
NATURAL ELEMENTS IN DECOR
In line with the natural trend in interior design, natural elements have taken an important place in babies' rooms as well. We find natural feel in different pieces, from wooden cribs and furniture to decoration. Different textures and nuances create a warm, organic ambiance with a hint of an eco-friendly upbringing from the get-go. Nature-inspired design is easily achieved by adding a selection of smaller elements, such as a toy or decorative baskets, cotton details, handmade artwork, and wooden or crocheted toys. Following a nature-inspired theme combines well with virtually every decoration style.
BABY BOHO-CHIC
Dare to give your baby's room a boho-chic look - it's hardly going to influence a bohemian lifestyle, but it may be a great lesson in aesthetics. Bold, deep colors of gems combined with floral patterns and living plants and modern furniture make a stylish hippie interior. Go for emerald greens, deep purples, and leafy imagery. The room is best completed with a few handmade additions such as tassel-adorned mobiles, folk art or macrame statement pieces.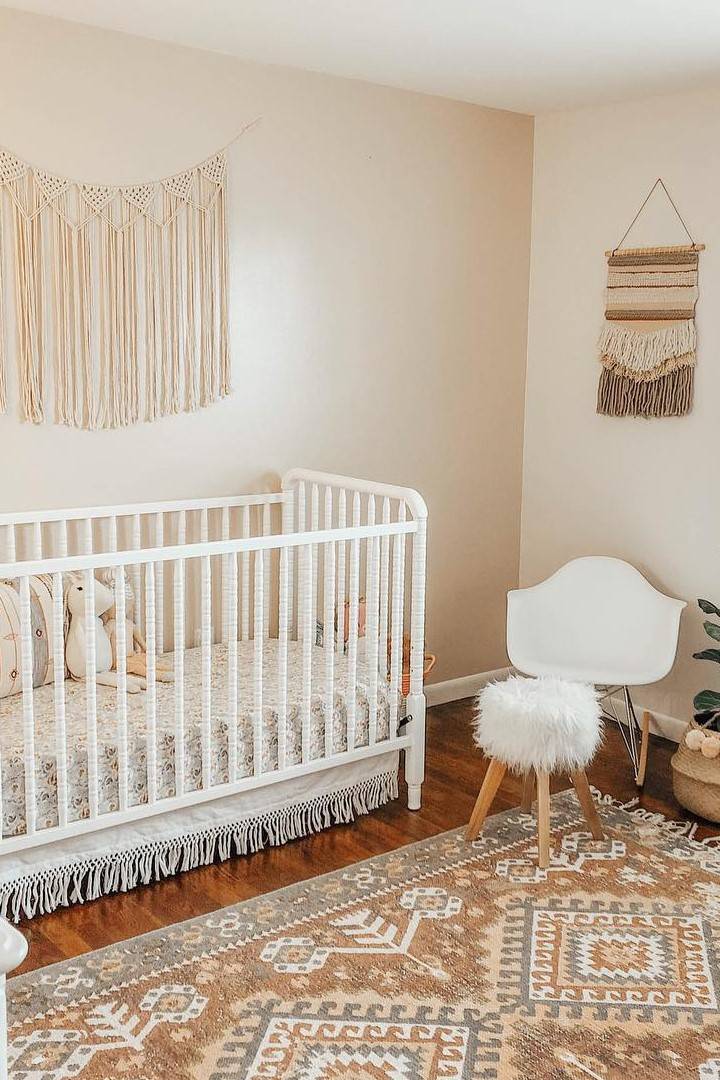 MINIMALISM EQUALS SERENITY
Moving in the opposite direction of the ornamentally rich boho style, minimalism has found its way into the nursery, both visually and conceptually. Here it implies serenity, but it also serves to minimize the material and open the space for imagination and play. White is the queen of minimal, allowing that axiomatic 10% of color. Accents can be either monochromatic, multicolored, or geometric. Black and white is a great solution in a minimal baby room, knowing that infants best develop their eyesight by watching bold black and white designs. Find a meaningful pattern and have the courage to give your baby a meaningful blank canvas to color at will while growing up.
---