Coiled Cotton Basket - Grey Stitch
DESCRIPTION
These minimalist cotton rope bowls and baskets are a modern take on traditional South African basket weaving. Coming in various sizes, they keep a simple, timeless form, each embellished with a design from a wide range of earthy and natural colors. With a focus on their functionality, Roopip bowls and baskets radiate with timeless rustic elegance.

Environmentally friendly, Roopip bowls and baskets are handmade from locally sourced, natural cotton rope and dyed with non-toxic sun-set dyes. No bleaching or chemical treatment is used in the rope production. Each item is colored directly and separately, with no bleeding into the environment.
DETAILS
CARE
DELIVERY & RETURNS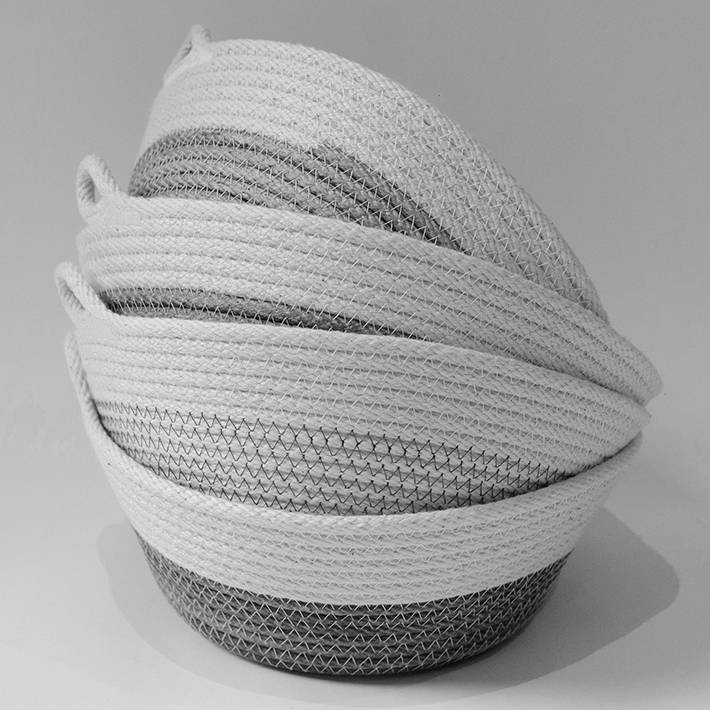 Cotton rope bowls and baskets are designed and handmade by Roopip. Roopip is based near Plettenberg Bay, Western Cape, South Africa, founded by Claire Randon. Inspired by her desire to work and live ethically in freedom, while respecting the environment, Claire created these simple and stylish bowls and baskets combining contemporary design with traditional craft.

Her products oppose the practice of industrial mass-production and provide a handmade home decor alternative. All the bowls and baskets she weaves by hand are made from natural cotton rope made locally in the Western Cape.