Hwange Serving Platter - Large
DESCRIPTION
Unique fine porcelain vessels of the highest quality inspired by the African tradition of basket weaving.

Using mostly local clay and glazes, the artist gives life to cleanly designed, yet organic vessels by meticulously and artfully scratching, pressing and incising them with linear designs and details. Infused with tradition refined to a perfection, Mutapo platters are examples of some of the finest contemporary African ceramics.
DETAILS
CARE
DELIVERY & RETURNS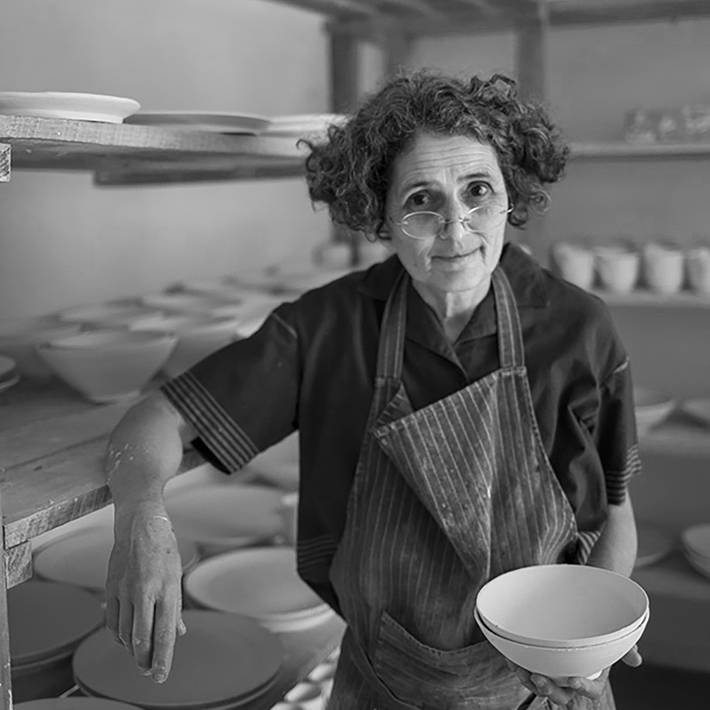 Considered one of the best ceramic artists in Africa, Marjorie Wallace has been implementing her vision through Mutapo Pottery since 1992 with expert clay-thrower Jairos Zangira.  
Located in Miombo Woodland, Harare, Zimbabwe, Mutapo has reached international acclaim with its singular approach to porcelain. Drawing from the memories of her youth, Marjorie has created a line of recognizable vessels inspired by traditional basket weaving and African prints. Having graduated from Michaelis School of Fine Art in Cape Town, Marjorie returned to Harare, as an art teacher while continuing her artistic career. Working with Design Network Africa, she has exhibited in London.