Fathers Day Conversation with Jomo Tariku
FATHER'S DAY INSPIRED CONVERSATION WITH JOMO TARIKU

We spent some time this month in conversation with some of the men in our 54kibo community: from interior designers to artisans who were born in Africa or from African descent, and we learned about their own fathers, childhood memories, and how their paternal relationships have inspired them to this day. Feature in Architectural digest and Elle Decor, furniture maker, Jomo Tariku is the founder of Jomo Furniture, based out of Burke, Virginia. Here is our conversation with him.
What inspired you to start designing and creating furniture?
Jomo Tariku: I have always loved sketching objects - I was never too much into drawing people. I did more of it during summer break out of boredom. My dad was pretty strict and we were stuck at home with my younger brother who is a year younger than me. Around 10th grade my dad decided to get us to do apprentice work and art with a local artist and furniture maker in our neighborhood. It was really a tiny shop that produced furniture from beds to trays. Now looking back I think that influenced me later on in life but back then it was a great way to escape my dad's imposed "don't leave the house" rule.
Once in college in the US I discovered Industrial Design which led me to changing my major. I was so certain by my junior year (1991) I wanted to do something related to Africa for my Industrial Design thesis. I was gobbling up anything African on campus by then - be it checking out books, reading magazines, taking classes on African History and so on. As I was entertaining doing my thesis on African Furniture a professor with a furniture design background was hired by the university. This kind of pushed me to go ahead with it as all the support I needed was materializing in front of me. That led to a Thesis that was arguing the need for a new approach and perspective into developing new lines of African furniture based on our heritage and culture. I also noted the global market was very myopic on it's definition of what African furniture is, and surprisingly, we are still dealing with that up to today.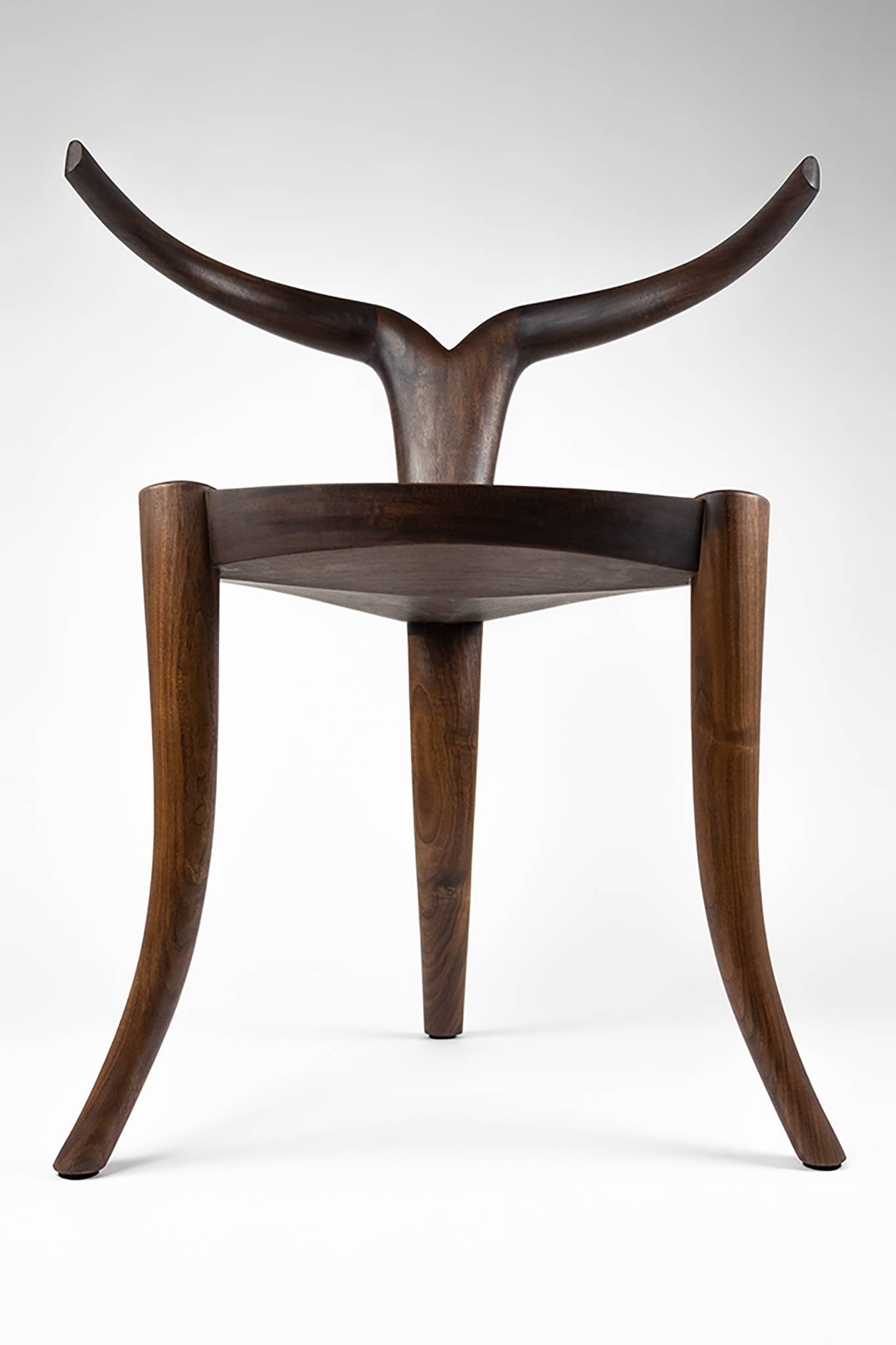 Nyala chair by Jomo Tariku
CONTEMPORARY HANDMADE FURNITURE
Can you describe for us the inspiration behind the Nyala chair?
Jomo Tariku: The Nyala chair was inspired by a shy and elusive antelope from the Bale Mountains of East Africa. The male antelope has very distinctive and twisting soaring horns. The chair blends this gracefully in a very well balanced and aesthetically pleasing way, adapting the three legged base common among standard African stools.
We see you are releasing the Nyala stool - for how long has this creation been brewing? Anything you'd like to share with our community about this addition to the collection?
Jomo Tariku: I think most designers are always basing one work on top off a refined piece they have developed so designing the stool/end table was a natural progression as it complemented the chair very well. I have sketched out a matching desk and a table also but at the moment I am not doing very large pieces. I think there is a possibility to develop that working with an interior designer or gallery in the near future though.
FATHER'S DAY MEMORIES
What has been one of your fondest Father's Day memories?
Jomo Tariku: We did not have the same type of Father's Day celebration growing up in Ethiopia so I don't necessarily have one I can directly point to. Even here (in the US) we are very simplistic about the whole tradition. We go to a local steak house every year for lunch and have some relaxed quality time.
Do you know of any Father's Day rituals and traditions that have existed throughout your family lineage?
Jomo Tariku: Not really. I grew up in Ethiopia during very difficult times for most families. Ethiopia was going through uprisings, red terror, famine and civil war. We were being bombarded constantly by messaging from the Eastern Bloc countries where anything Western was frowned upon and ridiculed or even chastised by local cadres. Most families with connections were planning on how to get their kids out of the country safely once done with highschool so as to avoid mandatory military service and that is what my father did. A week after my graduation I was in the US taking summer class in college. Didn't even attend my prom ... it was a luxury he was unwilling to take a risk on.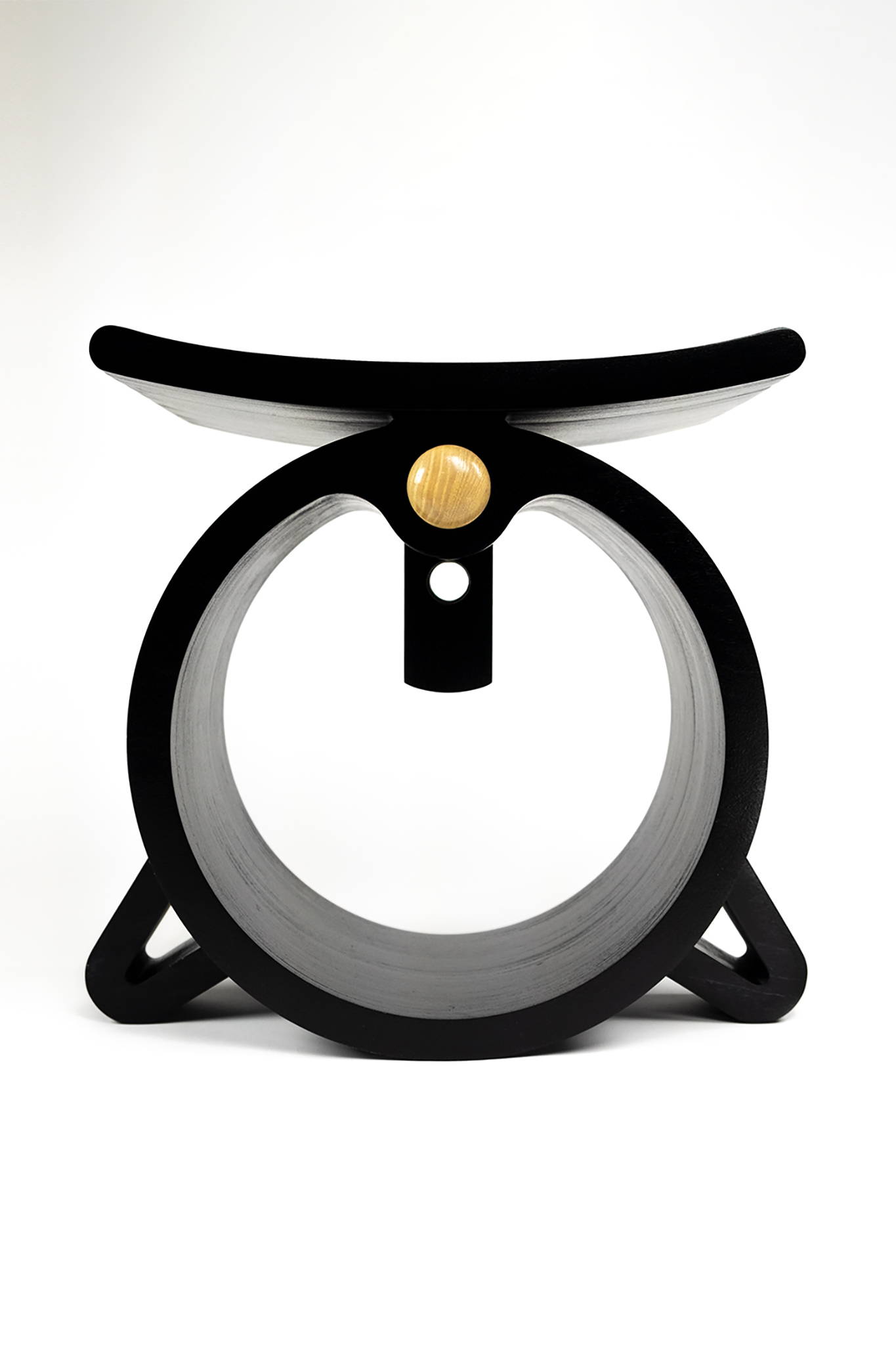 Ashanti stool by Jomo Tariku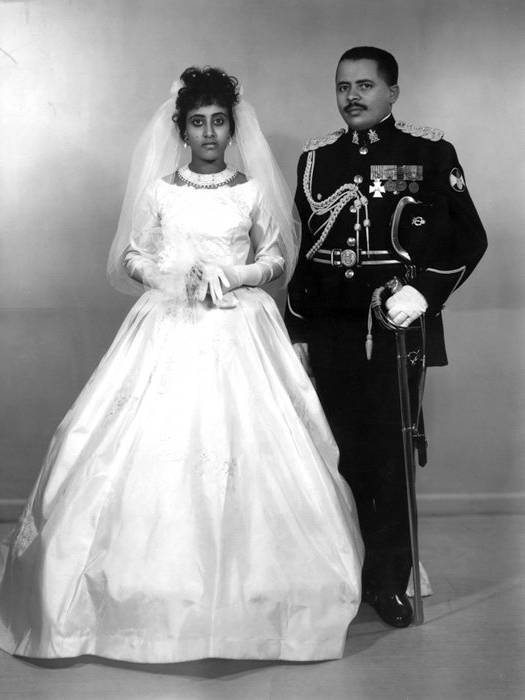 Jomo Tariku's mom and dad
FATHER'S DAY GIFT IDEAS  
If you were to gift an item(s) from 54kibo to a father in your life, which would you choose and why?
Jomo Tariku: I think it would be the Necklace Pendant. His life story has been the driving force and the light in what I do now. He has a very stubborn personality and I think I take that trait when it comes to my persistence in trying to change the industry into accepting what we black designers are doing in the US. He has also faced racism multiple times during his travels to the US, France and United Kingdom including being beaten up by skinheads and left on the streets of London to die, injured and unconscious where no one lifted a hand to help until he got up by himself and went to his hotel. Even incidents like this never put him down but used it as a lesson to us kids to rise up and do our best.
Anything else you'd like to mention?  
Jomo Tariku: I am one of the few luckiest people who has both parents still alive. My dad is around 94 years old. He has witnessed the Italian invasion of Ethiopia, and seen Italian snipers kill people as a child, walked thousands of miles bare footed, with fleeing families that were around 12,000 to end the journey into a Kenyan refugee camp sick and destitute with only 6,000 of them as most perished. He grew up as an orphan raised by his uncles and achieved a lot and held a high rank in the Ethiopian Military during the Emperor's time. He became the Military attaché to Kenya (where I was born), then Uganda and Tanzania. This is the reason he gave me a Kenyan name. We have never spoken about his trauma but understood it from the stories he has told us. He is a survivor and he has passed that tenacity to me so I am very thankful for that and I wish him the very best Father's Day the way we know it best... spending his time with my amazing mom!
---