How To Design Your Home Like A Professional, with Kiyonda Powell
KIYONDA POWELL LENDS HER TALENTS TO THE ASPIRE HOUSE

Each year, Aspire Home and Design Magazine teams up with the world's leading architects, builders and designers to create new homes built for the sole purpose of being showhomes. Traditionally, showhomes are centered around renovating properties, but the Aspire Home is a new concept built from the ground up to inspire and bridge the gap between the design and residential communities. This year's Aspire Home in McLean, VA featured the work of nearly 30 designers from around the world, include Kiyonda Powell, Washington D.C. based interior designer and Creative in Chief of Kiyonda Powell Design Studio. We sat down with her to learn more about this exciting project. See our conversation below!
WHAT WAS YOUR ROLE IN THE ASPIRE HOUSE?  
Kiyonda: When given the challenge and opportunity to design a showhouse room, I was tasked with bringing the recreation room to life. Inspired by cozy gatherings in a rustic cabin setting nestled in the woods, I wanted to create warmth with hardy wood textures and layer the space with familiar, yet reimagined patterns and motifs. I have coined my design concept "Cabin Cool", the place where people can gather and enjoy each other's company with games and lively conversation - the cool place to be! I wanted the space to have a casual and flexible footprint, sprinkled with playful elements befitting a recreation room.
WHAT WERE SOME KEY PIECES THAT HELPED CREATE YOUR CABIN COOL AESTHETIC?  
To help achieve this, I turned to 54kibo to help bring this vision to life with few key pieces to style my space. When I think of some of the more familiar patterns and motifs you find in a cabin, I think of large scale layered patterns in textiles and tapestries. I selected the Jinja Floor Basket for its rich texture and bold pattern. The contrast in color with the weaving makes a striking statement in the room. It is perfect for the storage of blankets for chilly evenings or even for toys and games for the family.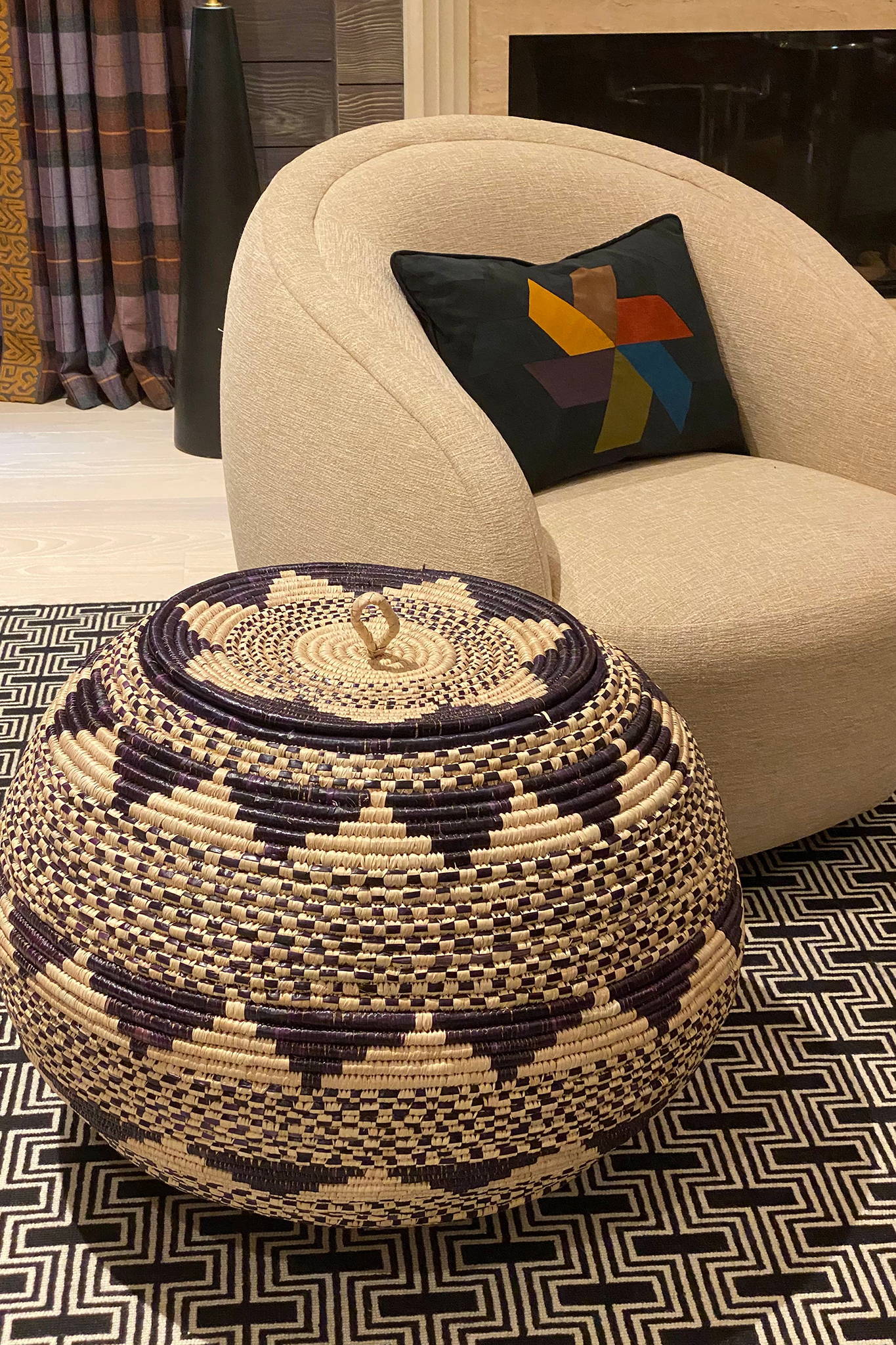 HOW DID YOU INCORPORATE ART AND CONTEMPORARY AFRICAN DESIGN INTO YOUR VIGNETTE?
Adding to the pattern play are a pair of screen prints from Lisa Hunt: the Royal Palm Repeat and the Hourglass Beads Turquoise. The dynamic gold leafing and geometric patterns added contemporary African flair to the collection of items I used in the gallery wall. They are great as a stand alone piece or can definitely enhance an eclectic mix displayed on a gallery wall.
The Amur Table Lamp from Dounia Home in gunmetal finish brings additional contemporary African art in the form of a light fixture. It was important to me to add the bold and unique perspective from African artisans. This piece not only adds warmth with light to the buffet, but adds modern interest to the vignette with the art, florals and beverage tray.
Kiyonda Powell brings a unique perspective to the Aspire House that is fresh, modern, and filled with rich textures and warm accents from 54kibo. She has spent the past 17 years working in both residential and boutique commercial design and has most recently been featured in The Wall Street Journal, Elle Decor, Home and Design DC, House Beautiful, Harper's Bazaar, The Washington Post and more. Be sure to check out Kiyonda's tips on Styling a Credenzaand creating a gallery wall.
---